During daylight hours Snowdon is a wonderful challenge. Taking it on in the dark brings a whole new adventure.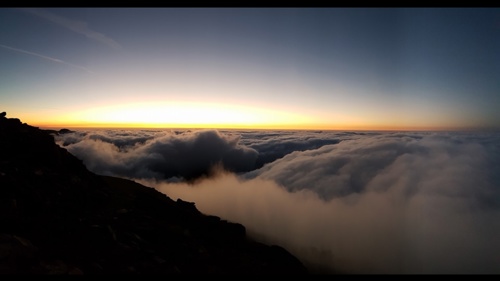 Climb to the summit of Yr Wyddfa / Snowdon at night to see the sunrise across Snowdonia. Enjoy the start of a brand-new day with a Snowdon Sunrise and views across the mountains and coast from Wales's highest mountain.
Yr Wyddfa, stands at 1085 metres and is the highest mountain in Wales (and England). Its rugged beauty attracts people from all over the world. Views from the summit have been voted the best views in the UK.
You will set off from Llanberis in the early hours of the 12th of September and reach the top in time for sunrise.
Registration
Registration is just £15 and all we ask in return is that you pledge to raise a minimum of £80 sponsorship, to support all those affected by cancer
Why join Team Tenovus Cancer Care?
You'll receive the best care and support from our friendly Fundraising Team along with some additional goodies to help with your fundraising:
A Team Tenovus Cancer Care T-shirt – to wear proudly on the day,
Our helpful Fundraising Pack.
Social Media support.
Expert advice and care from our professional and friendly Fundraising Team.
The loudest cheers and support on the day of your challenge!
Why we need you
We rely on supporters like you so we can continue to provide essential care and support for cancer patients and their loved ones, where and when they need us most.
We started with funding the search for better treatments. Today, thanks to amazing people like you, that work includes so much more: treatment, care and support to thousands of people every year, when and where it is needed.
By taking part in our Snowdon Sunrise Challenge, you'll be helping to support cancer patients and their loved ones in Wales and beyond. We know that a cancer diagnosis can be scary, which is why our free Support Line is available for anyone affected by cancer. Our friendly and professional nurses are available 365 days a year on 0808 808 1010.
Get in touch
For more information contact our fundraising team on fundraising@tenovuscancercare.org.uk