Being able to talk about cancer and share my story with others is so important to me - Tenovus Cancer Care helped me find that voice.
I've used nearly all of Tenovus Cancer Care's services! I'm a member of my local Sing with Us choir, I've had financial and employment advice and I've had emotional support.
After my diagnosis I felt lost and scared – cancer can be a lonely experience – but the support the charity provided helped me through the difficult times. They're such an amazing charity and have played a vital role in supporting me on my cancer journey.
The charity has given me so much and I wanted to give back, becoming a volunteer has helped me find a new perspective on life. I've been a member of the Llandudno Friends of Tenovus group who fundraise in the local community.
I volunteer at events put on by Tenovus including recently the Lovelight Christmas Concert and the Zip Wire challenge here in North Wales.
I also volunteer for Tele-friends a befriending service set up by Tenovus Cancer Care to help combat loneliness and connect people affected by cancer with a friendly volunteer for a weekly phone call.
I am now a member of Tenovus Cancer Care's All-Wales Cancer Community. The Community is an opportunity for people living with cancer to share their experiences with the right people, and to help have a real impact on the cancer care landscape in Wales.
I participate in individual fundraising for the charity by challenging myself. I  am not a walker and I don't like heights but completed a Twilight trek up Snowdon and took on 60 mountains for my  60th birthday. Next year I'm planning another walking challenge to raise funds for the charity, so they carry on the work they do to help others like me.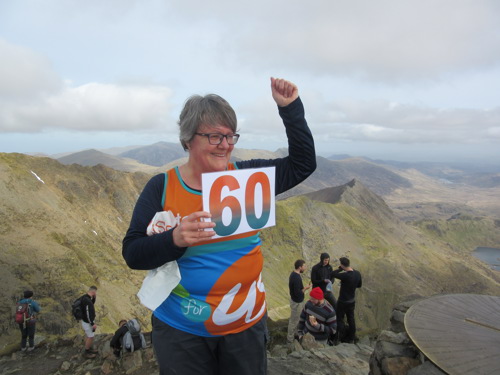 I try to be very open about my cancer because I want to help as many people as possible and I'll always tell people to get in touch with Tenovus Cancer Care if they need support.
Having cancer is awful but cancer does not always have a negative outcome, there are many survivors, and it's important to share positive stories too. I hope my story is one of hope for others who are at the start of their journey.