Last year, in celebration of her 80th birthday, Shirley did took on four challenges to raise more than £3,000 for the charity – riding a Harley Davidson motorbike, white water rafting, horse riding and descending a Zipwire
However, fundraising motivation comes easily to Shirley who had a double Mastectomy after being diagnosed with breast cancer in her forties. This Breast Cancer Awareness Month (October 2022) Shirley is on a mission, urging more fundraisers to do all they can to raise funds for Tenovus Cancer Care and support all those affected by cancer here in Wales.
"My mother had breast cancer, my aunty had breast cancer and my mother's niece had the same - that's where my motivation comes from, says Shirley.
"I made the decision when I was diagnosed, aged 42, to have my breasts removed to prevent the cancer spreading and it was the right decision for me. I've been lucky to live a great life and I've done some amazing things – my only wish is that others get to do the same. Fundraising for cancer charities has taken a lot of my time over many years but I won't stop now. It's important to me that all those affected by cancer have the support they need."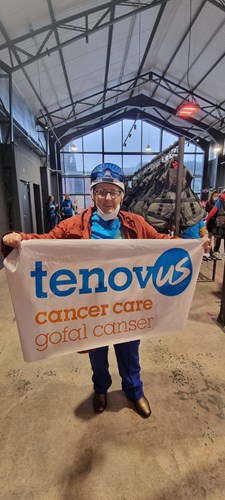 Shirley will be taking it a little easier with her fundraising exploits this year but will still be involved from her armchair, which she's found is just as effective.
"I don't mind bungee jumping, I don't mind jumping out of a helicopter, I don't mind any of that, but I've done it all now", she says.
"These days I'm having a bit of a rest from the active stuff but I'm finding that using social media can be just as effective when it comes to fundraising. I have over 1,000 people on Facebook and every night I post my charity donate button and roll of honour for that day; thanking all the people who have made a donation.
"I'd urge everybody to get fundraising for Breast Cancer Awareness Month this year – if I can do it from my armchair, then so can you!"